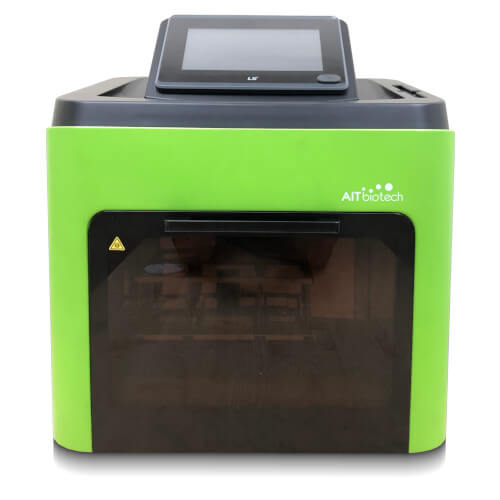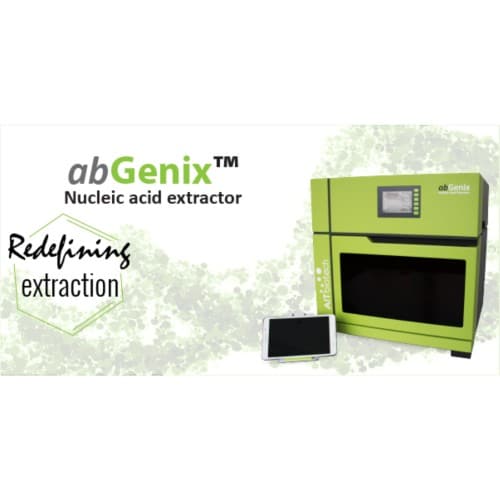 Login to see prices
The abGenix™ is a mid throughput automated DNA/RNA extraction system from a wide variety of samples. This automated DNA/RNA extraction system offers the flexibility to simultaneously process 1-32 samples per run in as short as 20 mins, meeting your sample processing requirement.
Features of abGenix, The Automated DNA/RNA Extraction System
An easy-to-use instrument with user-friendly software, saving time and labour
Rapid extraction to streamline work process
Reliable system with cost-effective and affordable kits for various kind of samples
High-quality nucleic acid extraction using Magnetic Pillar Rod Technology
Small footprint which fits easily on the lab benchtop
What are the technical specs that you need to know from this automated DNA/RNA extraction system?
Specifications

Description

Extraction method

Magnetic Pillar Rod Technology

Capacity

1-32 Samples per Batch

Processing Time

20-60 mins (Kits Dependent)

Processing Volume

Fixed Volume: 100-200µL (Kits Dependent)

Elution Volume

Fixed Volume: 60-100µL (Kits Dependent)

Collection Efficiency of Magnetic Particles

>95% Depending on Sample and Reagent Kit

Heating Temperature

Room Temp – 120ºC

Contamination control

UV Light

Hardware

Integrated Microprocessor (No External PC Required)

Touch Control Panel

Tablet Pairing and Control

Operation Interface

English/ Chinese Language Operating System

Protocols

20 Pre-installed Protocol in Instrument, Unlimited in Tablet

Dimensions (W x D x H)

420mm x 390mm x 490mm

Weight

21.5kg

Power Usage

AC 110- 240V, 50/ 60Hz

Power Consumption

600VA
Please contact us for pricing and availability.